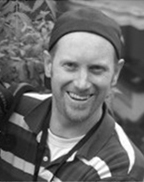 Prisbelönt filmregissör, Pilgrim Films
Since joining the Clarity Program I've got married, begun a new film project (that I'm passionate about) and relocated permanently to New York City.
I am a filmmaker whose work seeks to remind people of their essential goodness. That simple statement has been a long time coming. I joined the Clarity Program seeking clarity in life and work and the changes above were in the air at the start of the program but Fredrik and the process helped me define my direction more clearly and have the confidence to leap. His wisdom, patience and thorough approach are all things I value highly.